When immunoreactivity is reported in binary terms (e.g. CDa+, CDb-, CDc+), the number of possible immunophenotypes specified by a panel of M antibodies is 2M. This exponential relationship makes comprehensive cell subset identification through serial gating cumbersome, time consuming, and, in many cases, non-commutative. SYLARAS addresses these drawbacks of manual gating through computation by programmatically assigning an immunophenotype "bar code" to each cell in the analysis.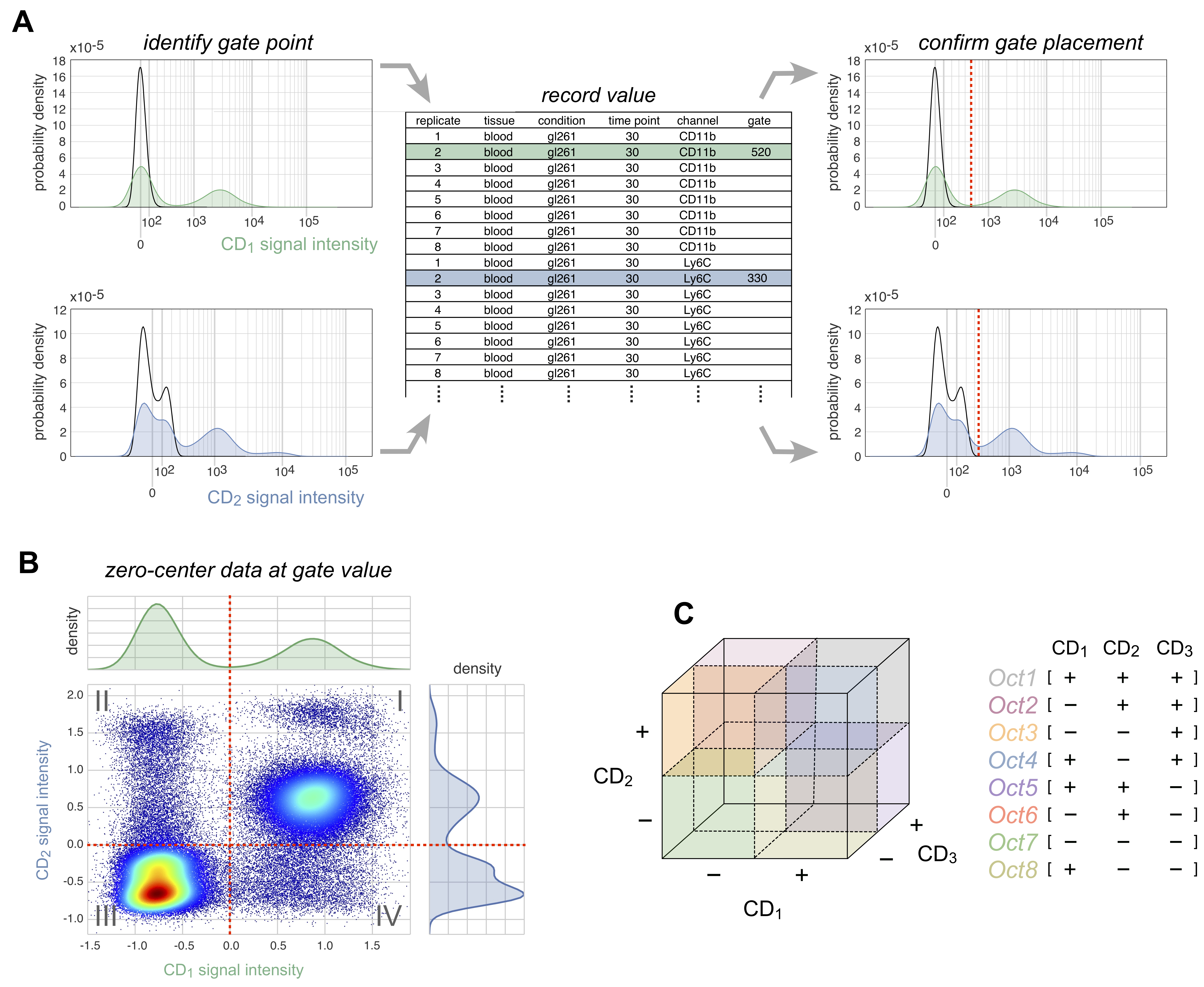 In the SYLARAS procedure, the interface between background and foreground signal is defined for each immunomarker by curating a set of one dimensional gates (histogram gates). The signal intensity distribution of unlabeled/isotype labeled cells is super-imposed on the immunolabeled distributions to aid in objective gate placement by revealing how autofluorescence and/or isotype control antibody binding compares to observed data ( panel a ).
The data then undergo a linear data transformation to center the predetermined gate values at zero. This causes background signal intensities to become negative valued and an M-dimensional Boolean immunophenotype to be programmatically assigned to each cell in the dataset ( panel b ). For example, a cell assigned the Boolean vector [1, 0, 1, 1, 0, 0, 0, 1, 1 ,0, 0] might correspond to the immunophenotype: CDa+, CDb-+, CDc+, CDd+, CDe-, CDf-, CDg-, CDh+, CDi+, CDj-, CDk-
In the case of a three immunomarker panel, the vectorization procedure can be conceptualized geometrically as the binning of cells across the 23 (= 8) octants of a 3-dimensional cube ( panel c ). Extrapolating the principle into higher dimensions (i.e. more immunomarkers), the vectorization procedure generalizes as the binning of cells across the 2M orthants of an M-dimensional hypercube.